How To Sell Your Home Yourself, For The Highest Possible Price, And Avoid Paying A Sell-Side Commission.
Side note: I'm constantly updating this page when things pop into my head and when I have time, so you will notice areas where sentences or sections end at unusual points. I didn't fall asleep in the middle of a thought. 🙂 I just didn't have time to format the point correctly, yet I wanted to get it on the site. Just wanted to get that out there. 🙂
You want to sell your house without using the services of a realtor. There are typically one of two reasons for that. You want to save money and/or you don't like realtors. We already have things in common. 1) I, too, like to save money. 2) I have to work with these knuckleheads every day so, yeah, I see where you're coming from.

Reading and implementing all of the items on this page will exponentially increase the odds of you successfully selling your home on your own. This is real world stuff, written by me, Steve Ujvagi; an active, professional realtor who is in the market every day and specializes in selling properties in your area.

"Hey, wait a minute, why in the world would a real estate agent want to show me how to sell my home by myself?"
It may seem a little odd, but there is a logical explanation. Make no mistake, I like commissions. Commission sales income is how I support my family and it motivates me to provide the best service possible in this extremely competitive business. If I don't get the transaction closed, I don't make a dime. In fact, I LOSE quite a bit of money that I invest into the marketing of the home. But, there are still reasons to offer help to people like you.

1) You're selling your house which means you might be buying a house locally, at some point. As you're well aware, in today's market, the seller pays the full commission; it costs the buyer nothing. If that's the case, and I can help you sell YOUR house on your own, then maybe I can help you on the buy side where I would make a commission. Or….

2) Maybe you're moving out of the area. Maybe you're moving to Wisconsin to start your new job as a master cheese crafter. (not entirely sure that's a thing but I'm going with it) In which case, you're going to probably buy a house when you get to Manitowoc County and I know some great agents in pretty much every city in the United States. I can refer you to a local expert who knows not only the real estate market but also about schools, and up and coming areas and restaurants and entertainment districts and cool stuff to do, and when you buy that house, I will make a referral fee commission. Or…

3) Maybe you return the favor. People are going to come see your house. Just like with EVERY house, whether FSBO or with an agent, only ONE can buy your house so most of them will NOT buy your house. In those cases, you could give me their name and numbers. Those would be buyer leads for me from which I can make a commission. Or…

4) If you are successful selling your home yourself (and your odds improve dramatically with the tips on this page), experience has proven to us that you may remember the help that I provided to you and give my name to your friends and family who might need my services in the future. Or…
5) I've been in the business for a long time and I've come to understand that, for various reasons, people who start out trying to sell their house on their own eventually can benefit from the advice and help of an experienced agent. At which point you MAY hire an agent and IF that time comes, after all the help I've provided you and after being honest, truthful and helpful, I'm fairly confident that you'll at least give me an opportunity to meet with you about listing your home. And if I sell it, I will make a commission, and you will tell your friends and family about me for the rest of eternity and we'll end up being best friends and you'll hire me to sell your next house, too, when it's time. 🙂

Now let's move on to the real task at hand… getting your home sold!!

You can sell your home yourself, without listing it with a real estate agent. You absolutely can do it!

Lots of work needs to be done, which means that you need to do the work that I would normally do. If you're willing to put in the effort and learn the process that top agents use, your chances of success will increase greatly.

First, you need to adopt a business attitude about the entire situation. Homeowners are often quite emotional about their homes, and it can prevent them from making quality decisions when selling. They reminisce about all of the holiday get-togethers, backyard barbecues, and how the family grew together in the home. Potential buyers are not interested in or affected by your emotional attachments to your home and they don't care about how much money you have into it. Buyers are not looking to buy YOUR home; they are looking to buy a house that they can make into THEIR OWN HOME. Please put your emotions aside and realize that you are going to have to make a dollars and cents business transaction.

Studies have shown that home sellers want three main things:

1)To sell their home for the highest possible price

2)Within the time frame they need

3)With the least amount of hassle and inconvenience

If you are like most sellers, you probably want the same things. Only since you are selling it yourself, you are willing to give up some on number three, because you are going to have to take on the work that a real estate agent would normally do.

It can be an overwhelming task, so the best way to tackle it is to learn and understand the following multi-step home selling process:

Step 1 – Understanding Market Conditions And Strategically Pricing Your Home to Encourage the Best Offers
Step 2 – Preparing Your Home For Sale

Step 3 – Calculating Your Bottom Line

Step 4 – Marketing And Showing Your Home

Step 5 – Negotiation And Contract

Step 6 – Closing And Moving

Let's examine the six steps in closer detail.
Step 1 – Understanding Market Conditions And Pricing Your Home
This is by far the most important yet most often misunderstood step. Failure to understand the market and properly price your home is the single biggest factor that will cause it to NOT SELL for top dollar and sit unsold for months on end! To make sure that this doesn't happen to you, you must first focus on two main areas:
1)CURRENT MARKET CONDITIONS

2)YOUR TIME REQUIREMENTS

Let's look at how current market conditions can affect selling and pricing. Suppose that there were very few homes on the market for sale, and a large amount of eager buyers. What would that do to prices? That's right, they would go up. This is referred to as a seller's market.

Conversely, if there were very few buyers and lots of eager sellers, what would that do to prices? Sure, they would go down. That would be a buyer's market. It is the basic laws of supply and demand.

Of course, that is a very simple example. Your local market may be at one of the extremes, or anywhere in between. You must consider things like, recent interest rate fluctuations, area new homes sales, and local economic factors such as large businesses opening or closing, etc., among many others.

To properly analyze your current market conditions, you will need to research homes currently available, under contract, and recently sold in your area and in the same general price range. A $200,000 home in an area is in a very different market than an $800,000 home in the exact same market.

There are several ways to get information on homes that have sold. The first way is to do the research yourself. Obviously, the quickest thing for you to do is to look at Zillow for their Zestimate. I will admit that Zillow is actually getting closer and closer to a correct value but there's simply no way for their algorithm to determine if a house has an updated kitchen, is in a cul de sac, on a corner lot, has a new roof or HVAC units, is on the lake versus near the lake, if the home's layout is conducive to today's buyers, etc. But, again, it's the best place for you to start. From there, find the most recent sales on your street. Then branch out to the streets closest to you. Then look at the entire subdivision or area homes that are most like yours and do an HONEST analysis. It's human nature for people to value THEIR home more than their neighbors' homes. But you're not buying your home. So you need to value it at a price that will cause a buyer to buy it from you.

To get the most complete information, give me a call. With the click of a few buttons on my computer, I can have a basic market analysis of your area (including available, under contract, and closed homes, average days on market, etc.) printed out in a matter of minutes. I will be happy to provide it to you, with absolutely no obligation, sales pitch, or pressure to list your home with me. It won't include my personal analysis, because that is reserved for the clients who hire me, but it will be valuable information and your best place to start.

Once you have the market information on homes in your area, take some time and drive around the area, stopping in front of the homes on your list. Make notes about the appearance and other details of the homes.

If any of the available homes are having an open house, take a look inside. Be up front with the owner or agent, and tell them, "We live in the area and are planning to sell our home ourselves. Do you mind if we take a quick look?" No quality agent would deny that request. This driving around is an important step, because it gets you more familiar with the market, and will help you make a more objective decision on pricing your home. And make sure you look at what price homes are SELLING. Not at what price they're LISTING. You can list your home for whatever amount you want. That doesn't mean a buyer is willing to pay that amount. So you should only pay attention to the sales price. And, if possible, look at the amount of closing costs that the seller paid. If your neighbor's home is exactly like yours and it sold for $400,000, BUT they also paid $12,000 in seller paid closing costs, then the effective sales price was actually $388,000. That's very important to note.

Next, sit down at the table and review the data and make honest, unbiased comparisons based on criteria such as:

SIZE

AGE

BEDROOMS

BATHS

POOL/SPA

BASEMENT

GARAGE

VIEW

LOT SIZE

LOT LOCATION
OTHER FEATURES AND UPGRADES

KITCHEN AND BATH UPDATES

AGE OF ROOF AND HVAC UNITS

Start by taking a brief look at the homes that are currently available for sale. The purpose of looking at the available homes is to get a feel for what other people in your area are asking, NOT to use the information on which to base your price.

A seller can ask any price for their home, regardless of what it is really worth. Many of the available homes are priced in "dreamland". These prices DO NOT reflect the realities of the market. In fact, professional appraisers cannot use available homes' prices at all when appraising a house; only closed sales within the past six months.

Now move on to the pending and closed sales. This is the real bottom line, where the "rubber meets the road". It is the hard reality – what buyers were willing to pay and what sellers were willing to sell for in a free, open market.

Study the closed sales. The first thing you may discover is that the actual sales price of the neighbor's home that sold 2 months ago is less than what they told you when you saw them out in the driveway. Imagine that! I don't know why people do that, but they do for some reason.

Identify the homes that are similar to yours, ones that are nearly the same size, style, etc. Then look for items that are different like a remodeled kitchen, pool, finished basement, etc., and make adjustments.

DO NOT make the mistake of thinking that you can get 100% of your money back on certain items. You may have installed two brand new HVAC units at a cost of $12,000 but that does not increase the value of your home by $12,000. Maybe $2000 to $5,000 depending on other circumstances. Buyers are expecting working HVAC units so it's not as if you IMPROVED the home. You just have new HVAC units. Similar logic applies to a new roof.

If you are still having difficulty determining the proper price for your home, consider hiring an appraiser. I know a couple of the best appraisers in town. You're welcome to reach out to me for their info.
sujvagi@wegetresults.com or cell (678) 520-5898

It is natural for every homeowner to have a certain "pride of ownership" and to think that their home should be worth more than the one down the street. This is where you must remain objective, and try to take your emotional attachments to your home out of the situation.

You must be reasonable. Unless you are in a total sellers market, if you price your home too high IT WILL NOT SELL!! It will sit on the market for months on end, getting the reputation of a "problem property". People may assume that since the home has not sold, there must be something wrong with it. They will start to avoid it and that will cost you money. Think of is as if you're the buyer. If the average days on market for a home at which you're looking is 30 and the home you like has been on the market for 4 months, are you going to offer anywhere near asking price for a home that's been on the market for 4 times the current average?

Even if you then drop the price, the damage is already done, the stigma is there, and you may need to drop the price even further to entice skeptical buyers. I'm not trying to scare you. This is real world stuff. I see this several times per year. A seller does not price their home properly. It sits on the market for too long. They end up selling it for 3 to 10% less than they could have sold for had they simply priced the home correctly in the first place. Even in the overall seller's market we're in at the time I'm writing this, 31% of all listed homes are NOT selling at all. If you truly want to sell your home, you do not want to be one of those people.
Step 2 – Preparing Your Home For Sale
Properly preparing your home for sale can make the difference between a quick sale at full price, and a home that sits unsold for months; even after several price reductions.

The first order of business is to forget your emotional attachment to your home and look at it through the eyes of a potential buyer. Be impartial, and recognize the weaknesses of your home. How does it stack up? Remember, potential buyers are going to be viewing A LOT of other homes, and if yours doesn't stand out, it will be much more difficult to sell. Buyers buy what they see. If what they see is dirty, if they see it's messy, if they see that you spot-painted the walls in only certain areas with paint that didn't exactly match the paint that was already there, if they see an inch of dust on the ceiling fans, if they see a furnace filter that hasn't been changed since the Carter administration, if they see carpets that have stains on them and look old and worn, you're in for a frustrating experience.

It's similar to selling your car. The first thing you would do is clean and "detail" the car inside and out. Your house is similar.

Luckily, I've made a detailed checklist that you can follow to prepare your home for sale.
Step 3 – Calculating Your Bottom Line
Once you have determined a fair market price for your home, you can calculate your bottom line. This is the amount that you will net (get a check for) after paying all of the expenses associated with selling a home.

Remember, by selling your home yourself, the only cost you avoid is the real estate agent's commission. You will still have to pay any other expenses, just like any other seller.

Closing costs vary from area to area and also depend on how each individual contract is structured. The following are items that you may need to deduct from your sales price to determine your net proceeds:

MORTGAGES/LOANS – Any first, second, etc. loans, or mortgages. Also any liens that occurred if you used your home as collateral. Call or write your lender and ask for the amount to pay the loan in full (often not the same as the principal balance).

PRORATED INTEREST – Mortgage interest is generally charged in arrears. This means that when you make your July payment, you are actually paying interest for June. So if your home sale closes on July 26th, you will still owe interest for 26 days even though you already made your payment on July 1st.

BUYERS CLOSING COSTS – Many buyers will ask the seller to pay part or all of their closing costs. On some government guaranteed loans(VA, FHA) it is required by law that the seller pay them. These costs can include, but are not limited to: loan application fees, credit report, loan origination fee, loan discount points, title, escrow, and attorney's fees, funding fees, tax service, mortgage insurance premiums, and impounds for taxes, insurance, and interest, appraisals, HOA clearance letters, HOA initiation fees, title insurance, etc.

TRANSFER TAXES/CHARGES – Transfer fees are often charged by state or local governments as a way to increase revenue. They vary widely, and are often based on a percentage of the sales price.

TERMITE INSPECTIONS – Required on some government loans, and requested by many buyers.

HOME WARRANTY COVERAGE –Depending on the plan, a home warranty covers items in the house (plumbing, electrical, appliances, etc.) for a period of usually one year.

For a list of specific charges, you can contact a title/escrow office, mortgage lender, or a real estate attorney. Of course, I would be happy to provide you with a quick net proceeds analysis at no cost or obligation.
sujvagi@wegetresults.com or cell (678) 520-5898
Step 4 – Marketing And Showing Your Home
Now that your home is ready, it's time to find some interested buyers to show it to. The effort required to attract potential purchasers depends on the current market conditions in your area. If you are in the midst of a sellers market where there is a shortage of homes for sale, simply throwing a FOR SALE sign out in the yard can produce a frenzy of activity.

Unfortunately, most markets are, sadly, not THAT good, so plan on putting in some time. You are competing with all of the other homes for sale, and the competition is often fierce. You're competing with people who're using agents who are successful in one of the most competitive industries in the world. You need to be on top of your game.
The first step, now that your house is clean, de-cluttered and beautiful, is to get some amazing pictures of your home. Please hire a professional photographer who specializes in residential properties. If you can't find one on the web, reach out to me and I'll give you the names of a couple that I use.
sujvagi@WeGetResults.com | (678) 520-5898

Professional photos are very important. Your competition wants to position their homes on the market as beautifully as possible and you need to do the same to attract the buyers to come see yours. Please do not skip this step. You're trying to sell what, for most, is the most expensive asset they've ever sold in their lives. If you want top dollar you need to give it top-level exposure and professional photos are part of that equation.


Next step, get your property on the internet. It's no secret that a HUGE percentage of people begin their home search on the web so get your property on every site imaginable. The local sites are obvious but also get it on international sites. People from Australian, Europe, India and Asia are moving here every day. To help ensure that you get top dollar for your home, it's important that you market your home to these potential buyers. When people hire an aggressive agent like myself, this is the exposure we guarantee. Now YOU are in charge of this, so do it right.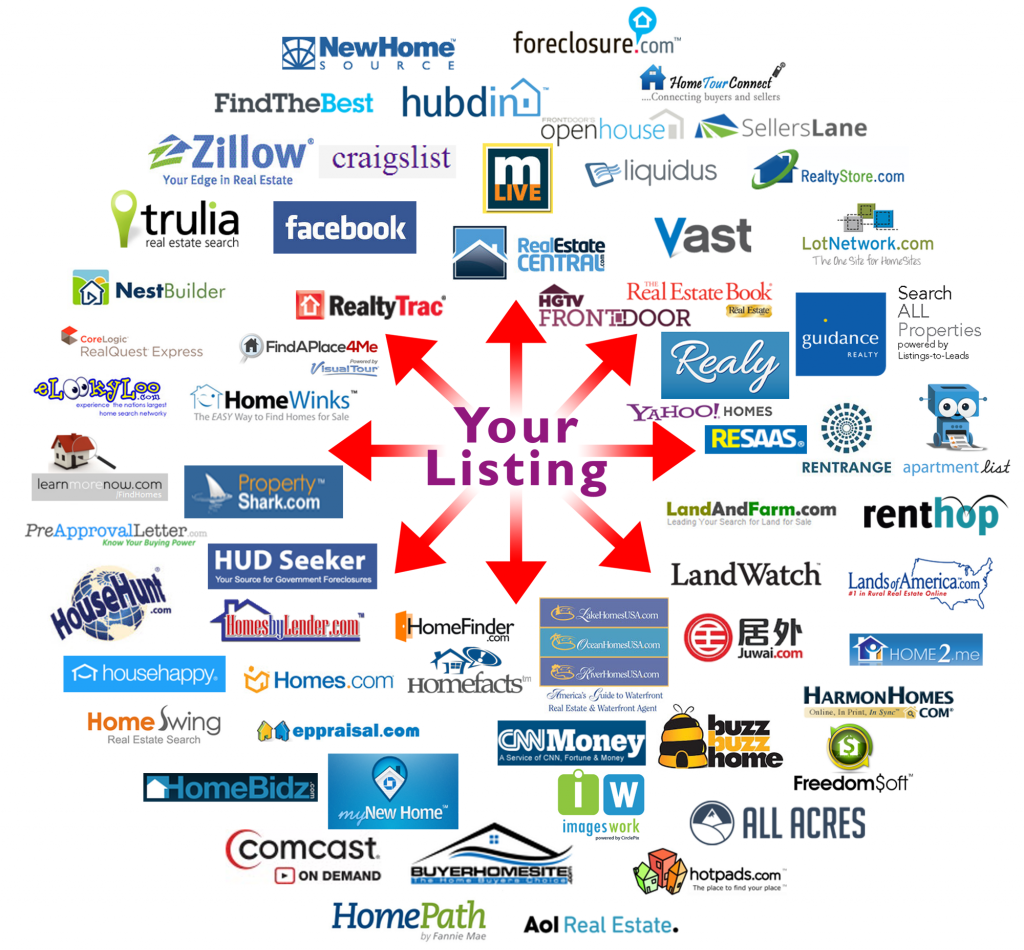 Next step, put up a "For Sale" sign in the front yard. Before you run down to the hardware store, keep in mind that a cheap, flimsy looking red and white sign does not convey the quality image that you want. Invest some money in a nice-looking, quality sign. Just google "sign companies near me" and you'll find several companies. A nice sign should cost between $40 and $250, depending on the size, design and quality. It should be at least as nice as the ones that the real estate agents use.

Next, put together a professional looking brochure that communicates all of the features and benefits of your home. Include a nice picture of your home and touch on some basic items like schools, number of bedrooms and bathrooms, updated kitchen; just basic information. Don't give too much info. You cannot sell a house with just a brochure. You need to speak with people to gauge their interest level and get them into the house. Giving too much info allows them to find one thing they don't like and eliminate your house from consideration. Giving just enough info to pique their interest and cause them to call you, THAT is what you're looking for.

If you don't have software to make an awesome brochure, you can go to a fiverr.com or similar site and find someone to make one for you for between $5 and $20. Spend the money to make the flyer look awesome! It's worth it.

Pass out the brochures to all of your friends and neighbors, pass them out at area businesses and drop some off at the relocation office of any large employers in the area.
Sell the sizzle! Not the steak!
– By I have no idea
Don't try to sell the house. Sell the house's sizzle. What's yours?!?!?! For every house I sell, I look for the sizzle. Flat lot on a cul de sac, private back yard made for entertaining, a kitchen that a professional chef would love, a master bathroom oasis. Whatever the sizzle is for your house, identify it and use that as the headline for your print and online advertising.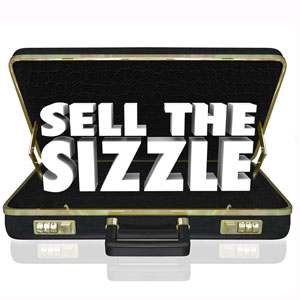 I have the advantage of having run hundreds and hundreds of ads so I have my system down. You don't have that benefit so you'll want to test different ads and see what the responses are. You should try modifying the ad each week, or a different ad on different sites. Maybe one ad for the main real estate portals and a different ad for the overseas buyers and another for the relocation buyers, etc.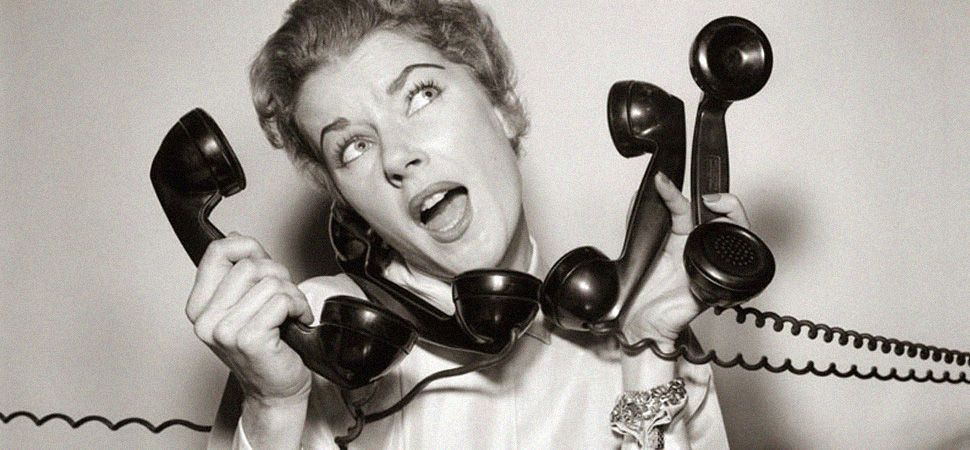 Again, the purpose of the ad is to get your phone to ring. THIS MEANS THAT SOMEONE NEEDS TO ANSWER IT!! The biggest complaint that buyers have with for sale by owners is that no one answers the phone when they call. You are competing against professionals. You need to answer your phone EVERY time someone calls. If a buyer can't get through to you, they often assume it's already under contract or sold and they just move on to the next property. Answer your phone. Every time.

Also keep a call log handy, so you will know how many calls you are getting from which ads, and to keep track of names and phone numbers.

An Open House can help get your home exposed to the market. Get some directional Open House signs and place them at corners leading to your home from major streets, and one in front of your house. DISCLAIMER: Make sure to check local regulations before placing signs. On your sign and in all of your ads, insert the words "Agents Welcome", assuming, of course, that you're coordinating with agents, and you should be. When agents call, tell them that you are NOT listing with an agent, but that you will be happy to pay them a X% commission if they bring you a buyer that successfully buys your home. This commission should be about the same as an agent would make if they sold another agent's listing, and an agent other than the listing agent sells a majority of homes. Be forewarned, however, that the buyer's agent is contractually obligated to get their client the absolute best deal they can get their clients. So, please do your homework. Make sure you understand everything you are signing. And be aware that, with real estate, anything verbal is NOT a binding contract; only things that are in writing. If an agent tells you something, but it's not written into a contract, what the agent told you does not matter. It's irrelevant. If an agent EMAILS you something, but it's not written into a contract, what the agent emailed you does not matter. It's irrelevant.

Once you have attracted interested buyers, it's time to show your home. This is where all your time and effort in preparing your home should really pay off!

Before you set an appointment, make sure that the buyer is looking for what you have. If they need six bedrooms and you only have three, they probably won't be serious about your home.

Also take a few minutes to politely "qualify" the buyer by asking questions of them or their agent about how long they have been on the job, do they own a home currently that they would need to sell before buying yours, have they been pre-approved for a loan by a lender, etc. We only have so much time on this planet and, I don't know about you, but I want to spend as little of that time wasting energy as possible. Also, a few words of caution; People are not always who they seem, and you can never be too careful. If the buyer is coming with an agent, then the odds are good that everything is fine. If the buyer is coming by themselves, the odds are still good that everything is fine but try to take some precautions. It is recommended that you ask for identification prior to letting strangers into your home. Serious buyers won't mind especially when you cheerfully tell them that it is simply a security precaution that was recommended to you.

Stash all small valuables out of sight. I typically tell my clients to get small valuable items out of the house or tucked away in some place no one would think to look. If you have an original full wall Picasso, obviously, that's going to be hard to get out of the house unnoticed. But, if you have a Honus Wagner baseball card in mint condition sitting on a shelf somewhere, that's something that can go in a pocket easily. Stash it away securely.

OK, it's Showtime!

To get the most out of every showing, there are certain procedures you should follow, both prior to the buyers' arrival and after they come in. Here's the link.
Step 5 – Negotiation And Contract
Being familiar with the market conditions and knowing your personal motivation to sell will guide you in the negotiations.

Get a standard real estate purchase contract and make sure that you are completely familiar with it and how to fill it out. Review it with a real estate attorney if you are not comfortable. There's a link below where you can find a copy of the one Realtors use here locally.

Generally, the buyer will present you with an offer for you to consider. 97% of the time, the offer will be presented by the buyer's realtor on a contract used by every Realtor in the state. As I mentioned earlier, only written contracts for the purchase of real estate are enforceable, so make sure it is in writing, not merely verbal. If your chandelier is a Renaissance era antique worth $100,000, make sure it's in writing that it's not included in the sale. Otherwise, it's considered "attached" to the home and it's included in the sale and there's not much you'll be able to do about it.

Make sure to spell out every little detail in the contract. A misunderstanding (honest or otherwise) could end up costing you thousands of dollars or even tying up your home for months.

When you are presented with an offer, you have three basic options:

1)Accept the offer exactly as it is.

2)Reject the offer in total.

3)Make a counter offer.

Here are some items that you should consider when structuring an offer or deciding how to respond to an offer that is presented to you.

PRICE

AMOUNT OF DOWN PAYMENT

EARNEST MONEY DEPOSIT

DUE DILIGENCE PERIOD

IS THE BUYER FINANCIALLY PRE-APPROVED WITH A LEGITIMATE LENDER

IS THE INTEREST RATE THEY WANT A REASONABLE OPTION

CLOSING/POSSESSION DATES

PRORATIONS

LOAN DISCOUNT POINTS – WHO PAYS

CLOSING COSTS – WHO PAYS WHAT

HOME PROTECTION PLAN – WHO PAYS

INSPECTIONS – WHAT TYPE AND WHO PAYS

ITEMS INCLUDED (WASHER/DRYER, REFRIGERATOR, ETC.)

TITLE/ESCROW COMPANY/ATTORNEY

CONTINGENCIES – WHAT AND HOW LONG

Contingencies may seem like a minor issue, but they can be a major stumbling block. A contingency means that something else must happen in order for the deal to go through.

A purchase may be contingent on the buyer getting approved for financing, selling the home that they already own, getting a favorable inspection report, or any number of other things.

Make the contingencies as specific as possible, and spell out exactly what will happen if the contingency is or isn't met. Also try to make them self-canceling. For example: "If buyer does not object in writing within 14 days from acceptance of this offer, contingency shall be considered removed".

Spending some extra time to make sure that the contract is "clean" can save you enormous headaches down the road!

Once you have a contract mutually agreed upon and signed by all parties, take it with the buyer's earnest deposit to an escrow company or real estate attorney. If your buyer has an agent, it's likely best to let that agent's brokerage handle the earnest money.
Step 6 – Closing And Moving
You are on the home stretch; almost there!! Now is not the time to get lazy or drop the ball.


Once all of the terms and conditions of the contract are agreed upon by you and the buyer, you will really need to stay on top of things on a daily basis. There are at least a hundred things that can go wrong and foul up the sale. In fact, I detail a lot of them here:
They get crazier and crazier as you get toward the bottom. I'm going to write a book one day! 🙂

You will probably be dealing with a mortgage company, title company, escrow company or attorney, appraiser, and inspector, among others. Make certain that the buyers deposit check clears the bank, that their credit report and other financial information is O.K., and that all deadlines and contingencies are met.

In Georgia, things can get a little squirrely at this point. Normally, you will walk into the closing attorney's office owning your house, and you will walk out of the attorney's office, an hour later, NOT owning the house. Which means you have to be packed and moved out before you actually close. Personally, I don't like this. It's not this way in every state but it is here and we have to deal with it. Therefore, make darn sure that everything is in order for your buyer BEFORE you start loading things into the moving truck. You don't want to have to put the house back on the market after you have moved out! Plus, once you move out, the buyer has a lot more leverage to get you to alter the contract in their favor.

Don't forget the little details like transferring the utilities out of your name, and change of address for your mail.

There you have it. If you have taken the time and energy to handle your sale properly, you will be rewarded with a nice check from the attorneys office!

I hope you have found this report to be a valuable source of information to aid you in selling your home yourself. If you follow the tips and recommendations outlined here, you will be way ahead of most others attempting to sell their own homes.

FYI, I update this page often. Contracts change a few times per year. Different issues pop up. This business is always changing. I'll do my best to keep things up to date but just keep in mind: I am not an attorney so I am in no way offering legal advice. The information contained herein is for your usefulness, but in no way is meant to create an agency agreement of any kind. Information is provided in good faith but is not to be relied upon and you are encouraged to independently verify anything enclosed herein.

Every home sale is unique, so if you have any questions that I can help you with, please don't hesitate to call me. Any time you call me you can count on knowledgeable assistance without any obligation, pressure, gimmicks, or sales pitches. But, yes, IF you decide to consider hiring an agent, I'd like to be considered. 🙂 If you sell your home on your own and found this information to be helpful, I'd appreciate you referring me to your friends and family in the future.

My direct cell number is (678) 520-5898, in case you need to reach me in the evening or on weekends.
* Open Houses. You should do an open house EVERY weekend. We do open houses EVERY weekend. We don't do an open house at the SAME HOUSE every weekend but we do do an open house every weekend. You never want a possible buyer to not see your house. By doing open houses every weekend, we get to meet a lot of different buyers. The buyers we meet at an open house likely aren't the best fit for the house at which we met them, but they may be perfect for another house that we have listed in the same area and price range. You do not have that same benefit so you should do an open house every weekend.
The specific forms you most likely need from the link above, if trying to sell FSBO, are:
Seller's Property Disclosure Statement (GAR F301)
Community Association Disclosure (GAR F322)
The easiest thing to do is to click the link above and then press ctrl-f and then type F50 or F123 into the search box.
Now that I've shared all of this information with you, please allow me to talk you out of selling your home on your own. Again, no "realtor bias". Just facts and real life scenarios. Link below.