We can't stress enough how important it is to get your property in its best possible condition BEFORE offering it for sale. There is absolutely a difference between a house you live in, and a house you live in that's also for sale. You would like to sell your home for the highest dollar possible in the least amount of time with the least amount of hassle, yes? You're asking someone to agree to spend what is, for most of them, more money than they've ever spent on any single item in their entire lives. They will want a solid, clean, appealing home, so let's give it to them whenever possible.
The bottom line is that homes with the best curb appeal and homes that are well-maintained with pleasing decor and minimal clutter will sell for more money and significantly faster than the exact same homes that do not have those qualities.
Preparing your home for sale does not need to cost a ton of money. Below, I will go into further detail. Please don't feel like you HAVE to do every single thing on this list. It would be AMAZING if you would, but it's typically not feasible due to time and/or money constraints. Just do the best you can. That's all you can do. 🙂 We will handle the rest to net you more money than you could get any other way.


Let's Start With Some Humor
♦ When preparing your home for sale, and you find a petrified frog, or any leaping amphibian, squished in your door jamb you should:
A) Use a putty knife or a similar item to remove the squishee from the door jamb.
B) Have someone else, anyone but you, use a putty knife or a similar item to remove the squishee from the door jamb.
C) Either A) or B).
D) Leave the squishee in place and paint it's toe to match the door frame and, most likely, no one will notice.
The person below went with D. The fact that I took a picture of it and put it on this list determined that D) is wrong. The correct answer was any of the choices except D.
Sadly, this is a real thing. I personally took this picture while showing a +/- $300k property. This seller could have used some home preparation advice. My buyer was more than grossed out, and, surprise, we didn't make an offer.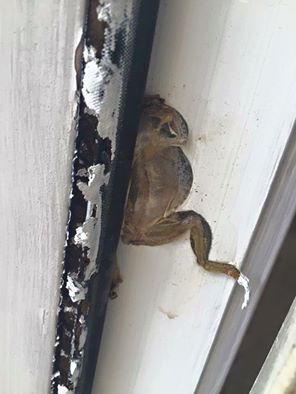 OK, enough gross stuff. On to the serious business.


Curb Appeal
♦ Cut and edge your lawn. Don't leave clumps of grass on the lawn. Do blow the driveway so it's free of clippings. Fill in bare spots with seed and get rid of as many weeds as possible. Use an edger where necessary. If you don't have an edger, borrow one from your neighbor.
♦ Spend some time trimming shrubs, removing dead branches from trees and removing and/or replacing any dead/dying bushes/plants.
♦ Thoroughly clean all your outdoor patio furniture, and touch up paint where needed. Dress your patios/decks up with some fresh flowers now that they are clean and inviting.
♦ Keep your front entryway clean and freshly painted. This includes the front porch, pillars, stairs, and door. Once it is clean and painted, dress up the front door with a welcoming wreath or a new door knocker. Have a green thumb you've been wanting to use? Some potted plants would dress up the entry and makes a great first impression. 🙂
♦ Ensure that house numbers, mailbox and exterior lighting are all in good, working condition.
♦ Thoroughly clean all windows and screens, and re-caulk or repaint where necessary.
♦ Stand back at the street and take a good hard critical look at your property. If you don't think you can be objective, ask your least favorite neighbor to stand there with you and tell you what he/she thinks. 🙂 Do the roof, gutters, downspouts, siding, and chimney look good? Would a good cleaning do them wonders? Are repairs in order? Get the cleaning, repainting, re-pointing and repairs done.
The Results Team has a long list of contractors who've done quality work at a fair price for past clients. This is another of the ways in which we can help you net the maximum amount of money for your property. Reach out if you need a recommendation.
Garage
♦ Got Junk? Call 1-800-Got-Junk or some similar service and get rid of all the old junk taking up space in your garage. Buyers need to see that their cars and misc garage stuff will fit in the space. If you just can't talk yourself into getting rid of that stuff that you haven't touched in two decades, then rent a storage unit for a few months while your home is for sale and take everything there that you don't need right now. We have personally used Junk King and they did a great job. When we used them, we just texted them a picture of what we wanted removed, they gave us a general estimate via text, and then they showed up on time and charged me the exact amount they had estimated.

♦ Clean, clean, clean. Clean the walls, shelves and floor, and repaint where necessary. Feeling extra-energetic? 🙂 Having a freshly epoxied garage floor leaves a great impression!

♦ Ensure the garage door opener is working properly and put some WD40 on a squeaky door. Next time you're at Home Depot, consider this. They actually make "garage door grease". It's a spray grease and it really makes the garage door opening a lot smoother. Also, good to make sure the garage door has been thoroughly cleaned and windows washed.


Kitchen
♦ Do everything you can to get every inch of counter space free and clear of anything. Get rid of the rooster. Get rid of the George Foreman grill, the coffee grinder, storage canisters, fake fruit, bills and anything else that you might have. Put them in a cupboard or pack them away or put them in storage. We need the buyers to envision their own stuff in the house and if your stuff is everywhere, they won't be able to do that.

♦ Sinks, appliances and counter tops should sparkle! They should also be in good working order. Fix any faucet leaks and replace any damaged appliance knobs.

♦ If your cabinets are outdated, new hardware may make them look 100 times better. The big-box home stores have a great selection of affordable cabinet knobs. For a small amount of money you can add an updated look to your tired old cabinets. If you're not moving for a few years and you'll have time to enjoy them, consider having the cabinets painted. If you do this, please make sure you use a proven contractor with references. Cabinets need to be sprayed. Brushed paint can look really bad.

♦ If you have ceramic tile, as unpleasant as this is, thoroughly scrub all the grout, or stain the grout if it is beyond cleaning. Often Soft Scrub used with a stiff brush produces good results. Professional cleaning may be in order. There are many quality cleaning services. If you don't already know one in your area, I have had great luck hiring all kinds of different services from HomeAdvisor.com. You can get regular weekly cleanings, one-time deep cleanings, move-out and move-in cleanings. Whatever you need.



Bathrooms
♦ Thoroughly clean mirrors, glass, chrome and porcelain surfaces. If you have grout, then scrub away!

♦ Replace shower curtain and bathroom rug with something fresh and tasteful.

♦ Fix any faucet leaks or drips.

♦ Check the caulking around the tub and shower and replace with fresh caulking where necessary. Any caulking with mold on it has to go.

♦ If it's in the budget, replace any brass fixtures/lights/fans/etc with an updated look. Now, here's the deal. Fixtures aren't cheap. If this simply isn't in your budget, no worries. Don't do it. But, it's a good way to spruce up bathrooms and help them appear fully updated to a prospective buyer. If you're thinking long-term, I recommend brushed nickel or even chrome. They're not the latest and greatest trend, but they're never totally out of style. They're nice and neutral and you shouldn't ever have to replace them unless they're broken.

♦ Check the caulking around the tub and shower and replace with fresh caulking where necessary. There's an old saying in the biz that goes, "If you got mold, it ain't gonna get sold." Actually, I just made that up, but not bad, right? 🙂 But, seriously, any caulking with mold on it has to go. No one wants to see a house with mold in the tubs and showers or anywhere else for that matter.


Flooring
♦ Make sure all carpet, hardwoods, linoleum, etc. are in excellent condition. It's common for a seller with bad flooring to say, "Meh, we'll just offer a flooring allowance." That's fine as long as you're OK with that allowance costing you 2 to 3 times the cost of just doing the work yourself and adding a month or two to the sales process. Buyers do not want to buy the most expensive asset of their entire lives and then, on top of that difficult process, have to repair or replace flooring before or after they move in. So, if they like your house, they're going to want to be compensated for the inconvenience of having to deal with the problem you didn't want to deal with. It's been my experience that the buyer's inconvenience is going to cost a seller 100% to 150% MORE than if they had just done the work themselves. In the end, the house is yours and you can do what you want with it, but this is solid advice from a seasoned Realtor who knows how to get homes sold and net sellers the most money possible.

♦ Floor boards are important. People's floor boards tend to get dusty and dirty and it's something buyers notice easily. Take the time to clean them thoroughly. If they're looking especially rough, repaint them. WARNING: Painting takes time. it's not something you do quickly. It takes time to do a good job. If your plan is to slap paint on as quickly as possible, don't do it at all. Either hire someone else to do it or just leave it alone. Quickly painting over dirty floorboards is worse than not painting them at all.


Closets
♦ Pack away everything that you are not going to need for the next few months. Neatly store in boxes in the basement, or rent a storage facility if you don't have a basement or have a lot of clutter. Remember that closets are never big enough and always important, so the less items that are taking up space, the larger your closets look.

♦ Organize your clothes and shoes neatly on bars and racks. Or, even better, get rid of half of them. If you're anything like me, you wear about 20% of the shoes in your closet on a regular basis. So, get rid of them. Throw them away, give them to charity, or box them up and put them in a storage area. The more organized and clean, the better!


Door Frame Insulation
♦ If you have pets that have been scraping at the door frame insulation, consider replacing it. It just slides right out of the slot around the door. It's dirt cheap to replace. Buy some that matches the color of the door frame. Use a sharp razor knife to cut it. Slide it right in. Super cheap and easy to do and gives a nice sharp look.



Ceiling Fans
♦ Dust all of your ceiling fans. Potential buyers get very turned off when there is a centimeter of dust and dirt on top of the ceiling fan blades. If the ceiling fans are 15+ years old, please consider replacing them. They're relatively inexpensive and you can learn how to install them on Youtube or reach out to us for some contractors who install them for a fair price.
Basement
♦ Efflorescense – a white, powdery, and sometimes glistening substance that appears on basement wall surfaces. Efflorescence is a loose mineral salt that is carried in with the water that infiltrates the concrete, being deposited on the walls during the process.
Although somewhat unsightly, efflorescence is harmless and poses no health concerns. It is, however, a sign of humidity. Basement humidity should be controlled, as it might cause more problems – including mold – to appear over time.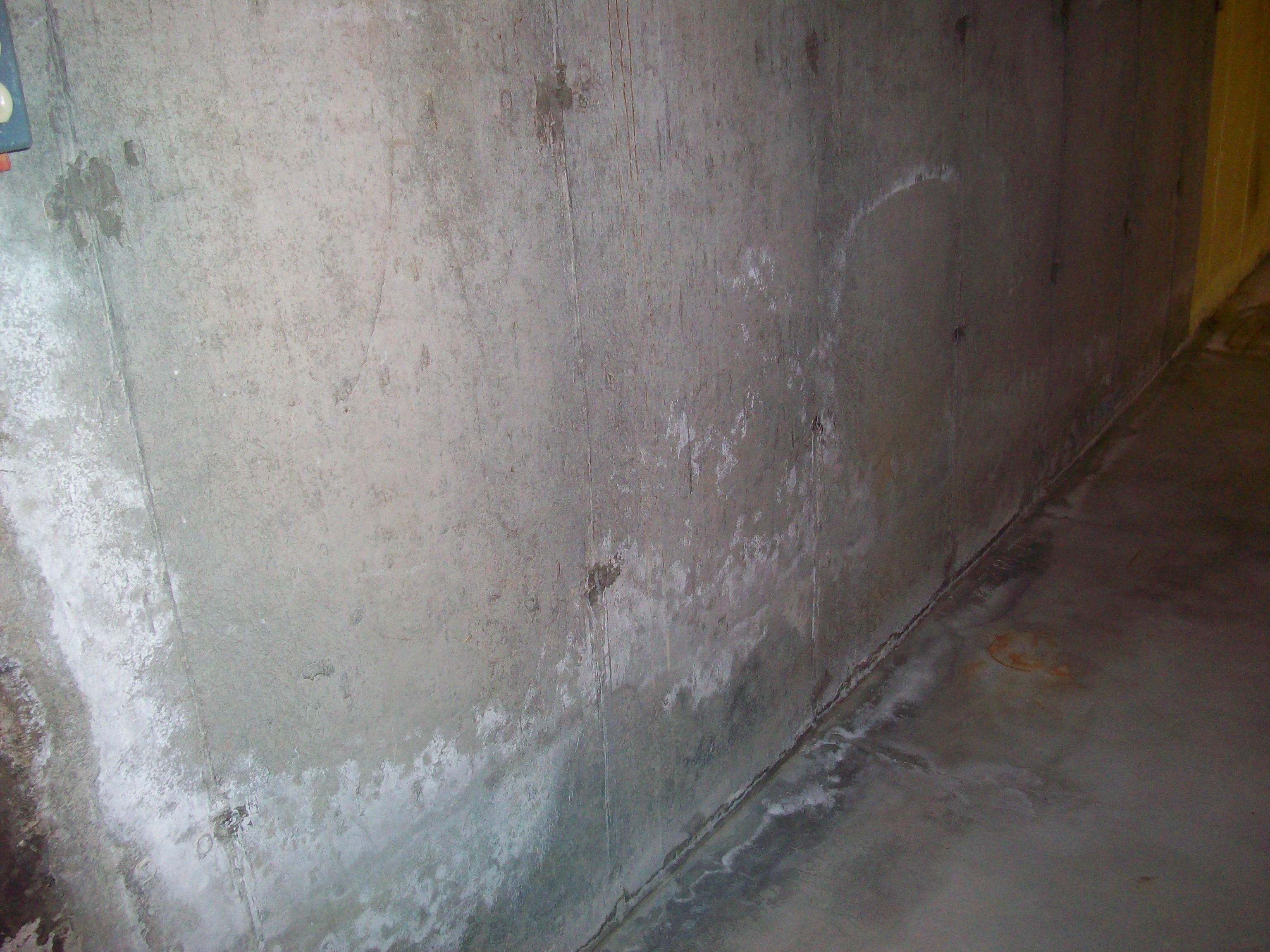 If you have some minor efflorescence that's been the exact same size on the wall for 20 years, take a moment to wipe it off. It scares buyers and every home inspector will make a big deal out of it when it's lilkely not a big deal. I'm in no way incouraging you to misrepresent your home. If the staining is growing and you're seeing puddles on the floor once in awhile, then that's a bigger deal. But staining that's been there for forever and hasn't grown in size, just wipe it down. Most of the time water and a stiff brush is all you need. If that doesn't do it, google and youtube will give you a myriad of options.
Brass Should Go Bye-Bye If Possible
♦ Brass is out. Well, actually, certain types of brass are coming back in, but the brass below is not. When possible, replace it where you can. I fully understand that kitchen and bath fixtures are very expensive to replace and install so put those last on your list or skip them.

The first thing I recommend is replacing as much brass lighting as you can.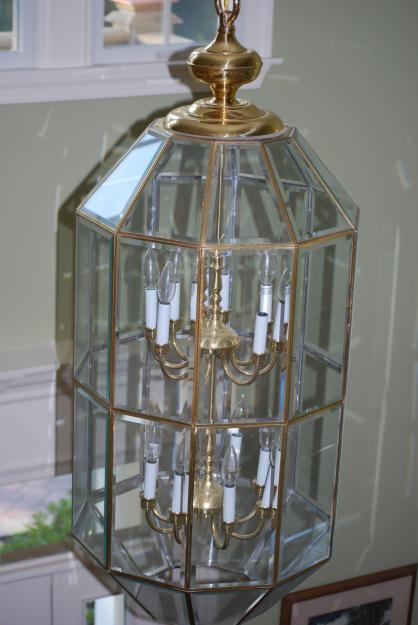 If you're open to it, I recommend replacing the brass foyer chandelier, if you have one. I know it's a pain, but, of all the brass lighting that may be in your house, it's the chandelier right there as you're walking in the house for the first time that has the biggest impact on your potential buyer. Overall, lighting is pretty cheap. You can replace chandeliers in the dining room and wall sconces pretty cheaply and quickly, as well. These two-story foyer chandeliers are a bit more expensive and aren't cheap to have installed but it is worth it to have done before putting your home on the market. You will receive a return on your investment of 100% of the money you spend replacing brass lighting. Your first inclination may be to say, "We'll just sell it as is and let the new buyer do whatever they want." And that WILL happen. But, for the inconvenience, the buyer is going to want to be compensated, so they will want from you about twice the cost of what it will cost them to do it later, including hard costs, labor and inconvenience. Now, don't think that if you don't replace all of the brass in your home, it's a huge issue. An aggressive agent is going to make sure that the one buyer willing to pay more for your home than anyone else, is going to see your home and fall in love with it. They may ding us a bit on the price but when they love everything else about the home, they'll overlook a lot. 🙂



EXTRA TIP
The paint below can be used to bring back to life certain lighting fixtures. You can't use it on knobs or anything that people touch regularly, but you can use it on chandeliers or light fixtures that don't get touched much. It's a great cost-saving way to make things look more modern.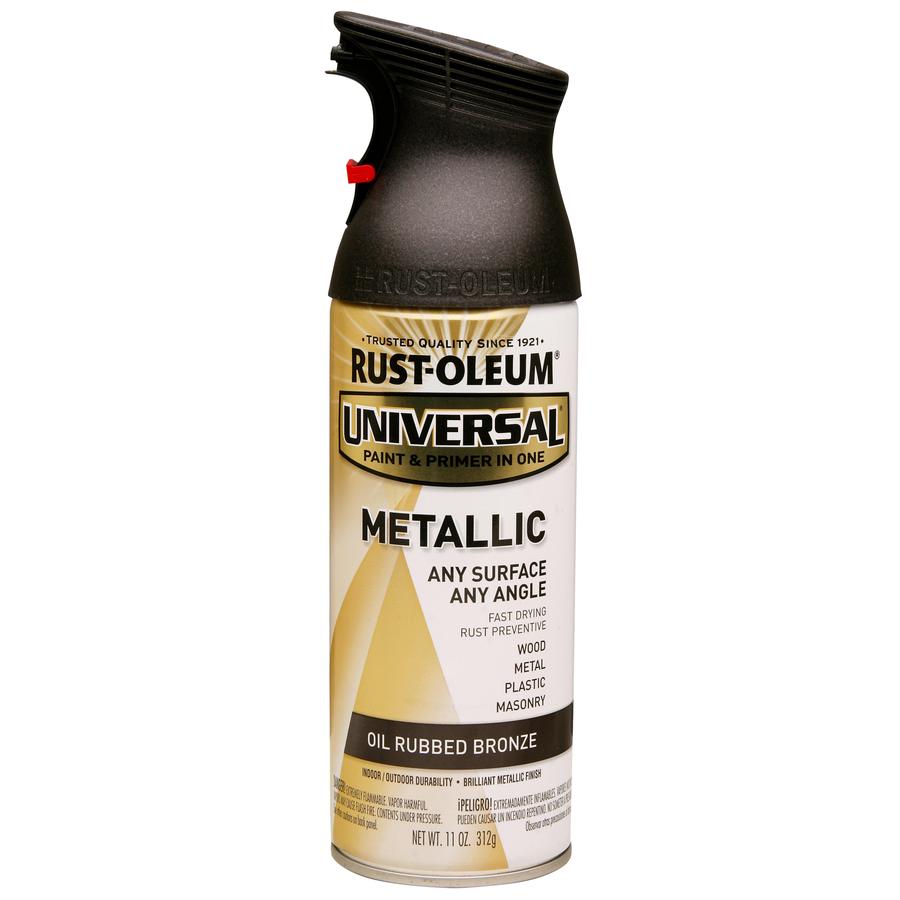 For instance, see below.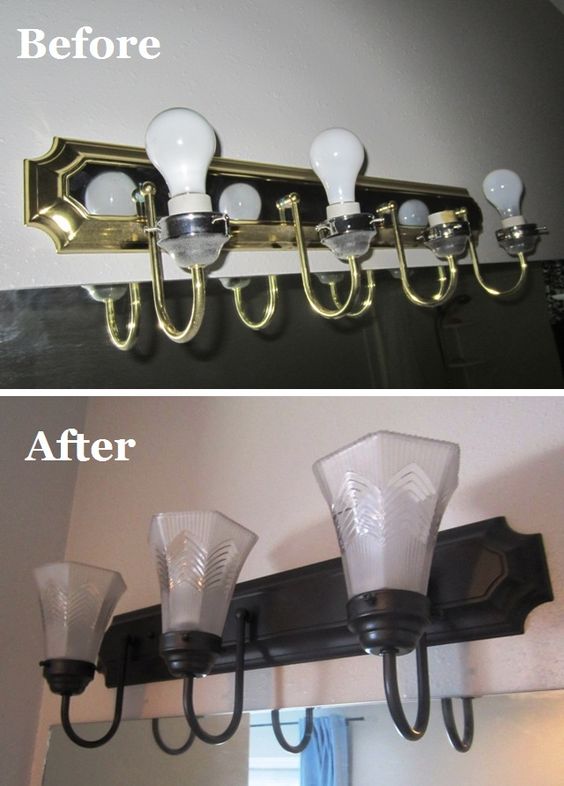 Also…..
♦ Check all the basics around the house . . . all doors, windows and cabinets . . . to make sure they don't stick, squeak or are loose, and that all the hardware is in good condition.

♦ Apply fresh paint where needed. If a room needs to be re-painted, use a neutral color to brighten up the space. If you need help picking a color, call me and I'll pick one for you that's a known popular color. As of the time I'm writing this, Repose Grey, or some color in that range, is all the rage right now.

♦ Draperies, and furniture should all be cleaned and looking their best.

♦ Replace all burned out light bulbs. Also, as of the time I'm updating this page, 7/21/18, I recommend removing any halogen bulbs and replacing them with regular ol' incandescent bulbs. The new bulbs take a minute to get to full brightness and the light just isn't as good. If it's not too much hassle, swap out the halogens for traditional.

♦ Clean the fireplace and remove smoke stains from the wall and mantle.

♦ Replace furnace filters as needed. This is a bigger thing than you might think. I will personally check a furnace filter at a home one of my buyers is considering buying. It's a litmus test. If that filter is disgusting, with a half inch of dirt on it, or, even worse, there is no filter at all, then that tells me that the house has, most likely, NOT been well cared for during the seller's occupancy and that leads me to look even more deeply into other issues. Replace all your air filters. Buyers are looking at these things and are impressed by a home that shows good care and maintenance.

♦ Does your home smell pleasant? Place diffusers or air fresheners with a pleasant and mild scent around your home. The old adage of enticing buyers with the smell of 'fresh baked pies' is a good one. Placing some cinnamon or other sweet spices on a piece of aluminum foil and warming them in the oven creates a pleasant smell too. Another trick for a mild, pleasant scent is to place dryer sheets into the furnace air filters. It's very, very mild and yet it permeates the entire house. Don't overdo it on the Glade plug-ins. Walking into a house and having the scent of Vanillaroma smack you in the face immediately puts a buyer on alert as they try to figure out what you're hiding. So, when it comes to scents, "some but not too much."

♦ If you have a nice stereo system in your house, show it off. Play classical or jazz music (you can even get 'home staging' music CD's) at a low volume to create a pleasant ambiance and unique showing experience. This is going a little overboard, but it can help. It shows prospective buyers that you are very serious about selling and presenting your home in the best possible manner and tends to keep low-ballers from throwing out low-ball offers because they can see how much work you're putting into selling your home.

Use the common-sense approach to preparing your home to sell. All this cleaning and repairing takes time and energy. A lot of it. You're going to be tired. You're going to be stressed out. But, remember, you're selling what, for most people, is the most valuable single item they will ever sell, to a buyer who is buying what, for most of them, is the biggest asset they will have ever purchased at that point in their life. It's a difficult process with seemingly endless twists and turns, but we will be there to guide you through it and it will be well worth it in the end.

This checklist is constantly changing as we run across items in our normal course of business. If you have anything to add, or if you have any questions, call, text or email us or use the contact form below.

Steve Ujvagi
sujvagi@WeGetResults.com
Cell: (678) 520-5898